Our Work in West Virginia to Pass the Freedom to Vote Act
We have pulled out all the stops to advance legislation that will protect our democracy. When Senator Manchin said he wouldn't support the For the People Act, we didn't quit. Our efforts have, in part, pushed Senator Manchin to introduce a transformative bill called the Freedom to Vote Act.
The Freedom to Vote Act would make Election Day a holiday, end gerrymandering, and stop dark money in elections. It's popular with voters, but Senate obstructionists keep filibustering any attempt to pass it. We're working strategically in West Virginia to pressure Senator Manchin to get the job done and save democracy.
Army veteran Xavier Scott (WV Veterans for Democracy) speaks at August 17 WV Capitol event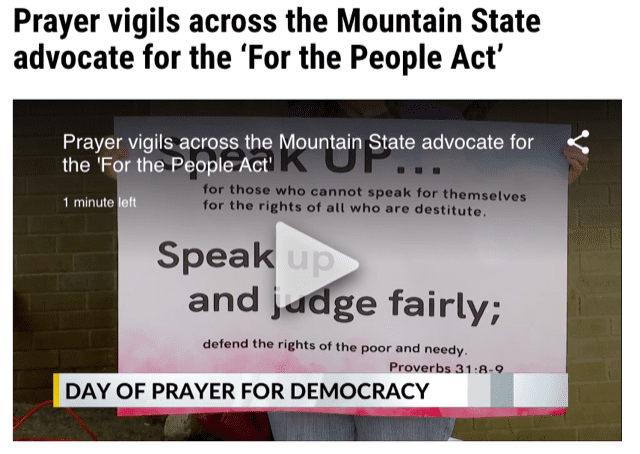 RepresentUs organizer Erin Lehman talks to reporters at August 17 WV Capitol event
Spreading the word in West Virginia
We're using creative tactics to educate folks in West Virginia communities about the FTVA – and it's working! In targeted areas we are posting billboards, driving around huge signs, and getting people talking about this Act.
PRESS COVERAGE in WEST VIRGINIA
Our efforts in West Virginia are working, and the press is taking notice! Media coverage is an important part of raising awareness and educating the public about the Freedom to Vote Act.